Hanami water based nail polish remover is acetone and ethyl acetate free. A gentle, moisturising formula enriched with Vitamin E and Aloe Vera, without the toxic odour of other brands. Perfect for travel.
40 x 100% biodegradable cotton pads pre-soaked in unscented water based nail polish remover. 

Certified vegan and cruelty free, and manufactured in Australia.

One wipe is enough to remove polish from 10 nails. Simply hold moist wipe against nail for a few seconds, then wipe clean from base to tip. Store in a cool dry place. 
Water Based 
Fast Acting
Acetone and Acetate Free
Non Flammable
Enriched with Aloe Vera and Vitamin E
Unscented

INGREDIENTS: Water, Propylene Carbonate, Propylene Glycol, Dimethyl Glutarate, Polysorbate-20, Ethanol, Dimethyl Succinate, Dimethyl Adipate, DMDM Hydantoin, PEG40 (Hydrogenated castor seed oil), Glycerin, Tocopherol Acetate (Vitamin E), Aloe Barbadensis Leaf Extract (Aloe Vera)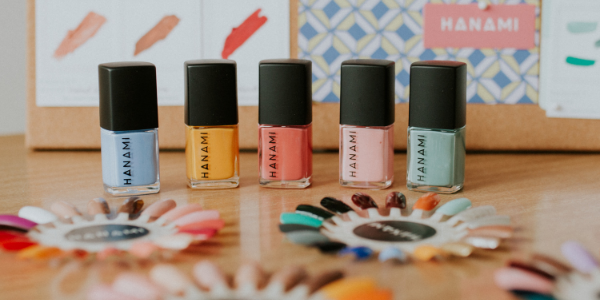 100% Vegan + Cruelty Free.
Our full range is proudly certified by PETA International and Choose Cruelty Free Australia
Spend $59 and get free shipping.
Australia wide, with fast dispatch from our NSW warehouse